Post by Kory Anders - Starfire on May 6, 2014 6:39:20 GMT -5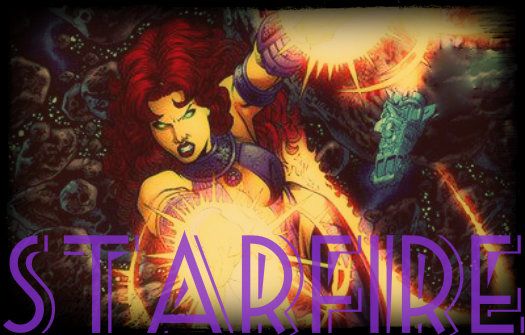 Seeking to thread with Starfire/Kory? Please feel free to send a PM!
Current!
Search and Rescue!
*Further Starfire slips into possible permanent corruption, torment and suffering by the hands of the Scarecrow. Nighwing accompanied by Arsenal work together to bring her home. Bring her back to the light... Along with a voice of the airways, long overdue!*
You're the light! You're the night!
*For once tonight might be good for a little dancing! A little romance! Can everything stay so peacefully in Bludhaven?*
Former!
- *WIP*
Earth Bound
- Dick/Kory
True Bonds
- Dick/Kory
Fireworks!
- Dick/Kory
The Perfect way to meet!
- Vic/Kory
What's your Dreams? *party*
- Dick/Kory/Vic/Phoebe
Top of the World!
- Kal-el/Koriand'r
Friendship Isle!
- Jason/Kory
Howl to the Wingman!
- Dick/Kory/Vic
Party of Justice!
- Various!
Little of your Time!
- Dick/Kory
Repair your broken wings!
- Dick/Kory/Bruce/Selina
Melting Delights! *special hunting edition*
- Dick/Kory/Phoebe
Wing over board!
- Dick/Kory
All in the Jeans!
- Jean-Paul/Kory
Western Swing!
- Rooster/Starfire
The bat that is and was!
- Batman/Nightwing/Starfire
Little teamwork never hurts!
- Nightwing/Starfire
No Worries!
- Dick/Kory
Early wake for the ball game!
- Dick/Kory
Outsiders Assemble!
- Outsiders!
Into the Wild!
- Scourge/Starfire/Batman
Live Each Moment!
Fear, Feathers and Fire!
- Scarecrow/Penguin/Starfire
The Outlaws!
- Roy/Kory/Jason
Team Bonding!
- Outsiders/Batman
Fool Me Twice!
- Dick/Kory/Charlotte
Cat Fights Fire!
- Starfire/Catwoman/Summer
Snowflakes!
- Dick/Kory
On the Floor!
- Kory/Kara/Barbara
Humans are weak Animals!
- Outsiders
Fire Starters!
- Dick/Kory